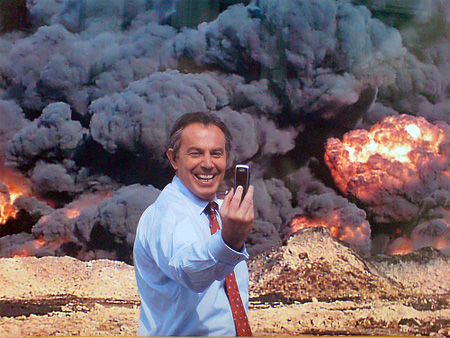 Yn wahanol iawn i'r
Aelod Seneddol Ceidwadol o Orllewin Clwy
d fydd Blogmenai byth yn cyfeirio at unrhyw beth sy'n ymddangos yn y Times - does yna byth bron unrhyw beth o ddiddordeb yn y papur. Ond, er mawr syndod i mi roedd yna rhywbeth heddiw -
erthygl gan Ken Macdonald
, cyfarwyddwr erlyniadau cyhoeddus o 2003 i 2008. 'Dwi'n dyfynnu'r cychwyn, ond mae'n werth darllen yr erthygl yn llawn:
The degree of deceit involved in our decision to go to war on Iraq becomes steadily clearer. This was a foreign policy disgrace of epic proportions and playing footsie on Sunday morning television does nothing to repair the damage. It is now very difficult to avoid the conclusion that Tony Blair engaged in an alarming subterfuge with his partner George Bush and went on to mislead and cajole the British people into a deadly war they had made perfectly clear they didn't want, and on a basis that it's increasingly hard to believe even he found truly credible. Who is any longer naive enough to accept that the then Prime Minister's mind remained innocently open after his visit to Crawford, Texas?
Hindsight is a great temptress. But we needn't trouble her on the way to a confident conclusion that Mr Blair's fundamental flaw was his sycophancy towards power. Perhaps this seems odd in a man who drank so much of that mind-altering brew at home. But Washington turned his head and he couldn't resist the stage or the glamour that it gave him. In this sense he was weak and, as we can see, he remains so. Since those sorry days we have frequently heard him repeating the self-regarding mantra that "hand on heart, I only did what I thought was right". But this is a narcissist's defence and self-belief is no answer to misjudgment: it is certainly no answer to death. "Yo, Blair", perhaps, was his truest measure.
Yr hyn mae Ken Macdonald yn ei ddweud ydi bod Blair wedi arwain y DU i ryfel trwy dwyll a chelwydd, ei fod o wedi gwneud hynny oherwydd ei fod yn ddyn gwan oedd eisiau crafu o gwmpas pen ol George Bush, a'i fod yn defnyddio ei hunan gariad pathetig i gyfiawnhau'r hyn wnaeth.
A allai unrhyw un a welodd y pantomeim chwydlyd ddoe ar y bocs amau nad ydi disgrifiad Ken Macdonald yn ffitio Blair fel maneg?